Singer/Songwriter/Producer, Lucy Hammond was born with soul filled with song! Her Mama said she could sing, before she could talk!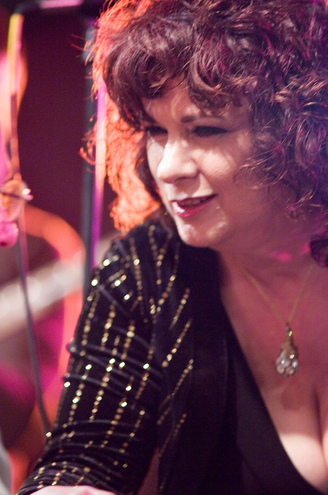 Onstage from the age of 6, Lucy's 
music education began in church. She gained a firm foundation for her soulful style,touring with performance choirs,
gospel groups,& as a soloist, through her teens,& on through college.

 
The smooth,clear tones of her 
classically trained, 
rich contralto voice,evoke some her biggest influences,Etta James,Bonnie Raitt,Patsy Cline,Ella Fitzgerald,and 
Big Mama Thornton,to name a few.
From her first performance in the Portland, Oregon music scene, fronting "The Cobalt Blues Band", Lucy drew rave reviews from iconic,"Two Louie's" Magazine.Going on to joini the roster of the Pacific Talent Agency. Lucy toured the Northwest performing with, "Loose Talk", "Geneva", & "The Tag",throughout the 80's.

Leaving active performing in 1990,sure to learn the blues firsthand,...Lucy traded in her gig bag for a diaper bag, embracing the toughest job she'd ever love, full time motherhood!

Since returning to the music world in 2008,Lucy's performed for countless fundraisers,civic events,festivals,across the country,written,and produced,her all original EP #1 RMR charting release,"Proof",funded by the 1st Kickstarter campaign, launched by a PDX blues artist.
"Proof" has received  airplay,on over 100 radio shows,world wide.

Lucy's been a featured artist in the National Women Of Blues Showcase in Memphis,Tennessee,twice.She's been the featured artist of the month on Blues Radio,produced and released the single of her original song,"Give Me Back My Sunshine",for a digitally animated video  by SpleenGene Animations. Lucy founded and produced the promotional recording project NW Roots Uprising,featuring some of the Northwest's finest "roots" artists.

Following the successful release & subsequent tour of "Destination Clarksdale", with singer/songwriter/guitarist/collaborator,Ben Rice,Lucy & Ben competed in the 31st annual International Blues Challenge,where they rose to become 2015 Finalists in the Solo/Duo category, performing on the historic Orpheum Theater stage.

Honored to be included in the webseries NW Songwriter Sessions,Lucy joined host/producer/musician,Tom Phillips at the CCTV studios in Salem,Or. early in December 2015,for a truly fun shoot! You'll find the show posted on the Home page here.

Currently performing with friends,booking dates,& hard at work writing tunes for her latest release,Lucy looks forward to taking on new challenges,seizing new opportunities,,& connecting with fans,worldwide.

Lucy is passionate about,lending her talents to worthy causes,inspiring others to go for their dreams,,& making genuine connections with everyone she meets!